Are you
proud
to be a citizen of Singapore?Without Hesitation, I will say I am! The reason being that Singapore is able to strive strongly from a country that is
lack of essential resources and contaminated water
to one that is
highly developed and advanced
! Singapore has experienced lots of ups and downs including merger and separation with Malaysia and under the colonisation of British and the withdrawal of British army to defend Singapore!
A video Featuring Uniquely Singapore:

I know you will be asking..
What are some of the qualities that differ us from the other nationalities?
Well, I have listed them below :
Tourism
:
W
e live in a
clean and vibrant city
and almost everywhere you go, there will be blocks of flats surrounding you and
GREENERIES FOR SURE!
W
e don't have our own natural resources and have to depend on man-made attractions for tourism !Our NeWater Factory at Bedok and 15 reservoirs provide sufficient water to all restaurants ,households and hotels !
W
e have our own national icon which includes
Merlion and Vanda Miss Joaquim
!
S
ingapore builds the world's first wildlife park built for visits at night which is the Night Safari! And we have our own uniquely durian shaped esplanade!
S
ingapore held its first racing grand prix which is also the World's First Night Race at Marina Bay and Central!
W
e have successfully achieved the ownership to host the 2010 SINGAPORE YOUTH OLYMPIC! Congrats to Singapore!
O
ur Sports Facilities are world-class based and singapore continues to invest heavily in venues like school indoor sports halls ,transport infrastructures!
S
ingapore is also recongnised as
one of the top 3 countries around the world
to have the
strongest and best education systems
.
I
n addition, Singapore possess the largest World Floating Platform at Marina Bay and World's largest Giant Observation Wheel (165 Metres SINGAPORE FLYER) which is said to be one of Asia's biggest tourist attractions!
S
ingapore is so fortunate to be the only country in the world which has not faced any natural disasters like earthquakes, Tsunami or Tornados! We are also one of the countries that do not experience the 4 seasons and only humid weather conditions yearly!
Transport
:
S
ingapore provides a world class transport that includes SBS TRANSIT and SMRT buses , trains and taxis that connect places together, making it easily accessible from airports to seaports, towns to cities!
S
ingapore has 4 terminals, namely TERMINAL 1, 2,3 and Budget Terminal which allows travellers to board their planes and enjoy their shopping at the Airport!
Singapore Changi Airport is recognised as one of the best airports in the world. With 80 airlines serving more than 180 cities in over 50 countries, Changi Airport has established itself as a major aviation hub in the Asia Pacific region.
W
e have our Own airlines like Singapore airlines and Silk air, together with Budget Airlines like Tiger Airways, JetStar Asia and Valuair which provides great comfort and connecting places around the globe, making travelling easier!
A
nd MOST IMPORTANTLY, We are the FIRST Country to introduce A380 AIRBUS!Thanks to SINGAPORE AIRLINES!
Security:
We have a very strong security force protecting Singapore from Foreign threats and terrorist attacks!Of course, this also requires the help of our strong navy and army. All young singaporeans male are required to serve the country as full time army for 2 years at the age of 18 and till the age of 40 for frequent trainings so as to upgrade the skills and the preparedness of the singaporeans.
Culture/Attitude
:
S
ingapore is a Multi-racial country with different religions and races and gives each individual a chance to prove themselves whether in the workplace or schools!
(thanks to corecorporate.com)
W
e speak
singlish
, professional English and different languages like Chinese, Tamil or Malay which allows us to communicate with other people all around the globe! We don't care about the criticism from people around us and will continue the way we feel comfortable!
(Thanks to Straits Times Cartoon Strip)
(Thanks to The New Paper)
We have our own uniquely food like char kway teow,hokkien mee,satay and many more!
LOOKS
Tasty
,
ISN'T IT?
W
e have our own Speakers' Corner for us to speak out our minds and thoughts! From Records, there are no other public demonstrations since July 1964.So, we can live in Peace and our police is highly efficient and high security throughout the country.
W
e love to complain. Whether the matter is big or small (even though it has a small impact to you), we don't care and will lodge a complaint to CASE (Consumer Association of Singapore) or the respective customer feedbacks channels!
For example, if you hate the attitude of the bus driver though he doesn't offend you too deeply, you will complain on online forums or to the bus companies! You will make sure that he gets it or else you will continue to complain!
W
e are
kia-su
which means
afraid of losing anything
! This happens when newspapers or advertisements state freebies giveaways or great discounts! Even though we have to spend our transport and time, we don't mind about it as long as we get the freebies!
For example, the GREAT SINGAPORE SALES(GSS) conducted yearly offers cheap items with great discounts! Though we know that there will be a long long queue and the limited stocks available, we do not mind as long as we get the things we desire!
Another example is in school examinations,when we just lose a mark of half a mark to our classmates, we will feel furious and strive for better grades, challenged to win him the next exam!
W
e love fairs like Food Fair or IT fairs like SITEX!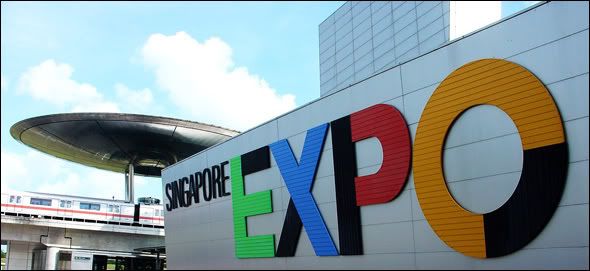 We don't bother about the working days!
If there are any fairs, you will see long vehicle queues going into SINGAPORE EXPO Car park though it is a week day and people shoving their way into the exhibition halls!
Sampling of food is always common and you will see shoppers shopping for goodies and bags of things dumping into their cars , though it is only cheap by a few cents or so!
Some Examples are as follow:
*
In NOVEMBER 2008, when the COE (Certificate of Entitlement) CAR PRICES
decline
till $2, people just go there and see the cars but not purchasing them!
*

A
nother example was the Macdonald's Hello kitty give-aways with every purchase of a set meal. This attracted lots of people and everyone wanted the hello kitty only,Hllo Kitties filling the plentiful dustbins outside Macdonalds!

Newspapers Articles featuring on the quick Hello kitty sales at

Macdonalds

!
(Thanks to Lian He Wan Bao,New Paper)
*
The release of iPhone also resulted lots of people queuing up for it!Even some
singaporeans flew to neighbouring countries like hong kong to get their hands on the iPhone before it is released in singapore.
Yes, and this is the photo of early-birds queuing up for it before 8pm!
W
e love the fun and excitement, together with the busy city life! We celebrate Christmas, Chinese New year, Lunar New year at famous locations like Orchard, Chinatown, Marina Bay, Vivocity!
(Thanks to Marinabaycountdown.sg)

Yes, That is why I am
Sooooooo Proud
to Be a Singaporean!
Hope Singapore have a BRIGHTER Future ahead!
Singapore
, Where my
Heart and Soul GROWS
!
Yes, I'm Singaporean! Blog Contest
Check out other Singaporeans at mySingapore.sg