Hey. Good evening!:) Have such a long day today around Singapore because we were on this IDEAS Module and have to go around shopping..! So, we went to
Bras Basah, Orchard and Airport.
Well, we are chased out by 3 security guards at one place for capturing photos. Not really chase out. They prohibed us from doing so.. But never mind, there is something call IT, so, we still manage to get the photos!!
We were rather amazed that bookstores at a lower standard can offer such better services than high end bookstores!! Well, will fill in with more details when presentation comes.
After which, we went to HARRIS at CHANGI AIRPORT! WOW! NO GST SHOPPING!!!!!!! didnt regret our decision to come here. Well, Rachel really spends alot this time on all the bookstores. And the I WEEKLY was like 20 cents cheaper!We went to TCC for coffee but I didnt drink because I was quite bloated.. And stuff there were ex..
Then, we took a group photo and yea, they went home while I go around Changi Airport T3 looking for stores to give me stamps.
There are all together about 30 stores participating in this contest, but I need only 5 Stamps. Of course, They have a limit of 3 TREE TOP STORES, 1 Store from 2nd floor and 2 stores from B2 Floor.
So, i was running frantically. And of course, different shop assistants have different feelings about this contest.
Some is like so unpleasant,as if I have owned them a few millions dollars for one stamp, some is quite smiley but encourage you to purchase things from them, some is like offering more help than expected. Of course, NO PURCHASE is required for this contest and $500 Shopping vouchers can be won!

And I have the photos here ( as usual)..!
*To make it brighter and looks more nicer, I have altered some things! And to make it more stands out, so I have either darken or lighten the image. Actual one is not like that. *
So, this is the stamp card for shops to stamp.Collect 5 only .
(Here got 2 stamp cards)
This is the gift: Padlock for Luggage.!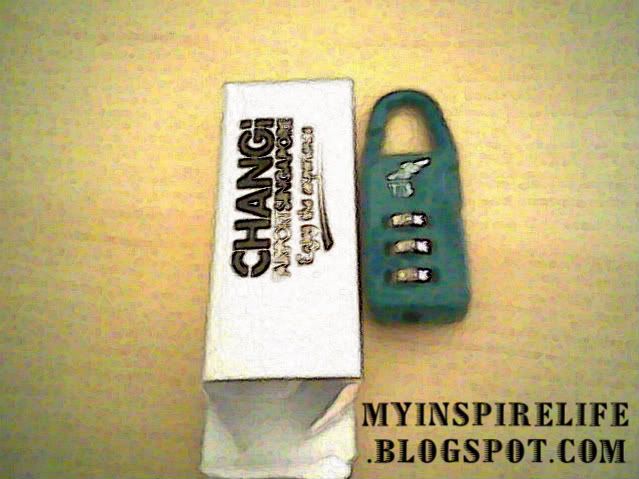 yeah!Sorry for the poor photo image. I've got to buy an OMNIA/PIXON soon !! Why not sponser me ?! hahaha!! Just Joking!
So, I have quite a pleasant experience at T3 today !! And yeah, take part in above contest and you may be the next lucky winner!!:) Though business looks very brisk there..So, SHOP MORE there!!!!!!!!!
hahahha!!
Okay. Got to go! Byee!