oh yea. Im back! haha!Well, I am just glad that PPP is ending really soon.. And all of us will be directed to different schools and different courses but we will meet up yeah?!
Anyway, Today we had Marketing. Well, it is quite alright. I manage to catch some ideas like price, compeitions, cost , Environment, Introduction,Growth and decline. It looks really like venice -- the S.S . chapter .. Rise and Fall of Venice.
And yeah, went to Tampines Mall today. Saw the Hp vivienne tam Series!! WOw. managed to capture some photos for the ongoing contest. Really hope to Win this cool laptop! Well, will submit tomorrow when I reach home since the contest ends on Sunday.
Oh yes, when we were going home from SP , i managed to capture this.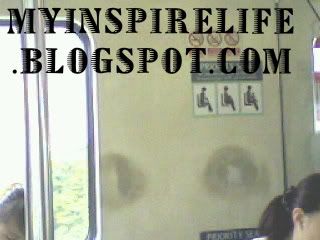 Im just wondering , Why isnt SMRT refrubishing or repainting the MRT inner? As you can see , there are 2 prints that look really horrible.
And yeah, I should end here.
Thats all. See ya!