yeah. We are happy to announce that MYINSPIRELIFE.INC (
http://myinspirelife.blogspot.com/
) is being featured as one of the top 2 blogs in SGBLOGHUB!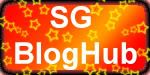 So, what is SGBLOGHUB?
Tt is where singapore bloggers all come together AND PLACE THEIR LINKS THERE FOR FREE! Not only can you recieve hits from them, you can also gain popularity and traffic!
yeah. got to go. Bye!