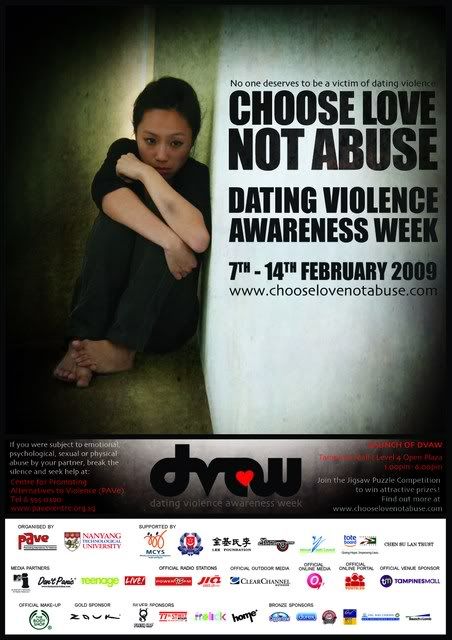 DATING VIOLENCE AWARENESS WEEK( DVAW)
Hey!I am sure that nowadays, teenagers start their new relationship more and more earlier by dating with opposite sexes and of course, some break off after some arguement and disagreement on different opinons.
Well, I find the abuse awareness week very useful as it provides lots of information on abuse during a relationship like the different types of dating violence, signs on dating violence and tips on dating violence to prevent such violence from happening!
And the abuse awareness week is from 7 to 14 feb 2009!
You can also learn more about this event by tuning on to
Jia 88.3FM or Power98
from
8pm to 12 midnight on weekdays!
And of course, if you have friends ageing from
17-25 years old
, do drop by the website for more information or spread the word to raise awareness!
And lastly, if you want to get more information about this event, do go to
Tampines Mall , Level 4 on saturday(7 feb 2009) at 1pm to 6pm to participate in the event!
I will sure go to the event so, do drop by and you'll see me there!:)
I am greatly honoured to be invited to the event organised by NTU undergraduates!
So, if you happen to see me, say hi!:)
Hope to see you there too!
And play the video to find out more!:)